Publicado por Ryuzaki Actualizado el:
Descargar por MEGA
Iron Man joins Captain America, Thor, Hulk, Hawkeye, Black Widow and Falcon as they assemble to fight the foes no single Super Hero could withstand! Now, they must battle a team comprised of the planet's most dangerous villains, The Cabal, a group joined together under the leadership of The Red Skull!
Season 01 , Episode 13 – "In Deep"
Iron Man and Captain America disguise themselves as villains to infiltrate Red Skull's Cabal, but when their disagreements over strategy cause their cover to get blown, they're forced to take on the entire Cabal alone.
Season 01 , Episode 18 – "Mojo World"
Hulk and Hawkeye suddenly find themselves stuck in a death match at the hands of the intergalactic broadcasting master, Mojo.
Season 01 , Episode 20 – "All-Father's Day"
Odin comes to the Avengers Tower demanding his son cease his "fun" on Earth and return to Asgard. Thor promises that if he can't prove the good he does on Earth he'll return home forever.
Season 01, Episode 25 – "Exodus"
Iron Man's confidence is shaken after he inadvertently puts Falcon in harm's way. When the Cabal pulls the trigger on its final plan, Tony has to put aside his personal dilemma and be the leader he was born to be.
Información:
Titulo: Avengers Assemble 2013
Temporada: 1 FINALIZADA
Duración: 21 Minutos aprox.
Idioma: Inglés
Tamaño: 175 a 200 MB aprox.
Formato Ó Extensión: AVI
Capítulos del 01 al 26
Subtitulos en español para descargar: http://www.subtitulos.es/show/1716 Ó http://www.subdivx.com/X46X-subtitulos.html
Servidores: Mega, putlocker, filecloud y 4shared
Trailer: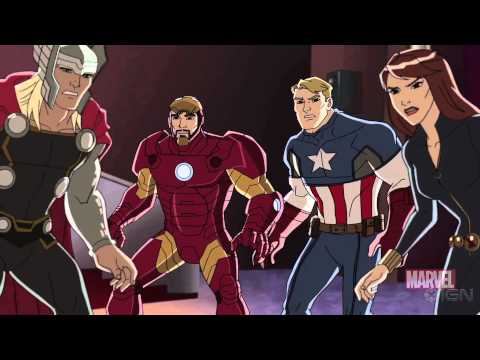 Capturas:
Descarga:
Descarga en MEGA 1 Link:
Ver Avengers Assemble 2013 Online:
¡Antes de Preguntar!
La contraseña de todos nuestros aportes es:
hackstore.net
Si no sabes descargar, tienes problemas para ver la serie o descomprimir el archivo...
Aqui te decimos como solucionarlo:
Preguntas Frecuentes
.